UK Holiday Entitlement Calculator
Some of our lovely customers who downloaded the staff holiday planner suggested that it would be really helpful to have a tool to calculate the holiday entitlement of employees.
Your holiday entitlement (or statutory leave entitlement) is the amount of paid holiday you are legally entitled to per year.
So, not wanting to shy away from a challenge, here it is!
The tool is based on the UK statutory leave entitlements of employees and uses the same approach as the UK Government website.
However, it is a lot faster and easier to use than the Government website!
How to use it?
It's really, really simple.
Press the Clear button to clear the fields (they will be blank anyway the first time you use it).
Answer the questions.
The tool will give you different questions depending on the answers you provide.
Once all the necessary questions have been answered, the tool will show you the correct entitlement.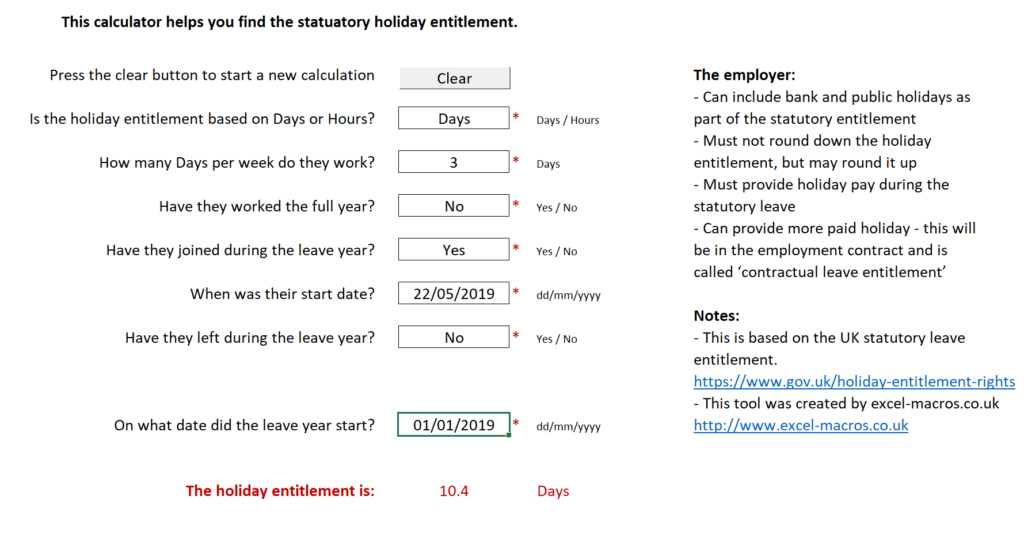 What types of employee does this work for?
Full time and part time employees
Employees who started mid-year
Employees who left mid-year
Employees who started and left mid-year
What about employees on casual or irregular hours?
There is a separate sheet in the workbook which allows you to enter the hours worked, or the hours planned to work during the year. This will then give you an entitlement based on the calculation that for every hour an employee works, they earn 7.242 minutes' holiday entitlement.
Further explanations
What is the UK Statutory Entitlement?
In the UK all full-time workers are entitled to a minimum of 5.6 weeks (28 days) paid holiday per year. This is known as "Statutory entitlement".
How are public holidays treated?
Bank or public holidays do not have to be given as paid leave. An employer can decide whether to include bank holidays as part of a worker's statutory annual leave.
What if staff joins and/or leaves mid way through a year?
If an employee joins or leaves during the leave year they are entitled to part of their statutory entitlement based on a pro-rata of the leave year they worked.
What happens with part-time workers?
Part-time workers still receive their 5.6 weeks of statutory entitlement but the number of days will be less due to their reduced hours.
Can we offer more than the statutory amount?
Employers can choose to offer their staff as much annual leave as they wish. Often this is seen as an employee benefit to help attract top talent to your team. The calculation provided in this tool is simply to help you understand the legal minimum amount.
Limits on statutory leave
Statutory paid holiday entitlement is limited to 28 days so any staff working 6 days a week would still only be entitled to 28 days' paid holiday.